Alcohol distillation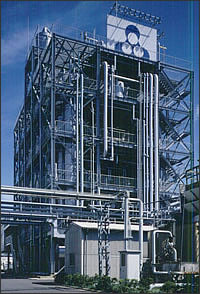 Since establishment, our company has been manufacturing and delivering various types of chemical machinery. In particular, we have been a trailblazer in the growth and development of alcohol distillation technology in Japan and over more than 80 years, we have delivered numerous distillation plant.
Our sophisticated products, developed on the back of deep experience and extensive skills honed over those years, continue to be rated very highly by our clients.

Delivery Record: Distillation plant / Major alcoholic beverage company
We delivered a beverage alcohol distillation plant with one of the largest capability in Japan. This plant integrates our all-out effort and the latest technologies, having a breakthrough process capable of quality improvement, energy saving and automatization (full automated using distributed control system). Our single-source-responsibility from design and manufacturing to on-site construction and commissioning achieved successful completion as originally planned and has led to the stable operation to the present. With the experience of leading the industry as a top manufacturer of distillation plant in Japan, we will meet the needs and expectations of our clients, and sincerely hope to contribute to our clients who require our help.