Filter dryer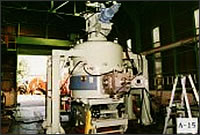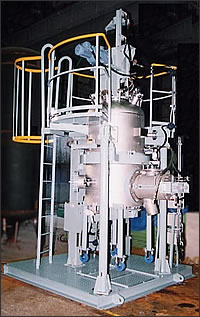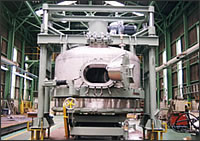 An SN type automatic cake-scraping Filter dryer is an innovative system that takes advantage of various structural characteristics to carry out a series of operations that include filtration, cleaning, and drying. In addition, it uses an automatic cake scraping system to easily reslurry and to automatically discharge cake under closed conditions. The specifications of the Filter dryer depend on the purpose, but the process is consistent. The key point is how to streamline and ensure the cleaning, drying, and cake discharge process after filtration. This equipment is a superior Filter dryer designed exactly for that purpose. Please feel free to contact us if you plan to take advantage of it.
Features
Its cake scraping system realizes automatic discharge.
Cake can be discharged under completely closed conditions.
Enables the cleaning and drying of reslurry and cake.
Easy replacement of filter fabric thanks to its clutch door.
Its oil pressure system makes it safe and easy to lift and lower the impeller and also to actuate the clutch door, table lifter, etc.
New sanitary type product
In response to a recent demand in the fine chemical field, we have developed and commercialized a new sanitary type Filter dryer that advantageously uses our sanitary technology. It can also be installed in clean rooms.