Ammonia treatment system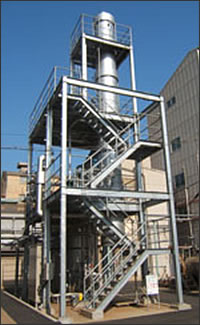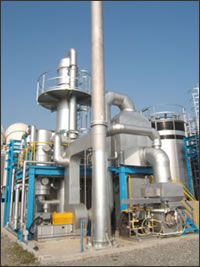 We merge some of our technologies, including catalytic deodorizing technology, stripping technology, absorption technology, and wastewater treatment technology, to offer a solution for nitrogen control of any wastewater and exhaust gas.
In Japan a ministerial ordinance on adding nitrogen to the discharge standards of the Water Pollution Control Law came into effect on July 1, 2001. Depending on the industry, a grace period of 3 years was provided, but came in full operation in April, 2004.
We offer various solutions for nitrogen control of wastewater. We developed a system by merging a high-performance, field-proven stripping tower and catalytic deodorizing technology that uses an ammonia treatment catalyst, and offer a method of treatment using this system and a method for recovering ammonia water that combines use of a stripping tower and an absorption tower.
System features
The system can be flexibly designed in accordance to the purpose.
The system can be used to treat ammonia gas and wastewater of a wide range of concentrations.
The system has a wide range of capacities to respond to variations in load.
Examples of delivered products
We have delivered high-performance products for use in various fields.
Chemical industry: 500 kg/hr and 25 m³/hr, ammonia recovery system.
Industrial drug: 15 to 25 m³/hr, ammonia stripping system.
Brewing industry: 100 m³/hr, ammonia recovery.
The system can be used in various fields such as the dye and pigment manufacturing industries, food industries, cleaning of semiconductors and electronic devices, and treating wastewater and sludge as well as the industries mentioned above.