Portable cryogenic container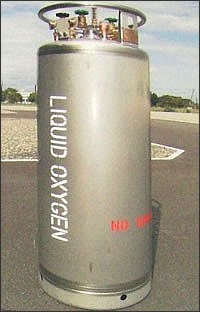 [What is the Super 45G?]
The Super 45G is a portable cryogenic storage tank that stores the gases that are indispensable to industry (including liquefied oxygen, liquefied nitrogen, liquefied argon, liquefied natural gas, and liquefied carbon dioxide) in a liquid state, maintains them at normal pressure, and automatically supplies them in a liquid or gaseous state continuously or intermittently at a specified pressure and flow rate.
Stainless steel plates are used for the inner tank while stainless steel plates or high tension steel plates are used for the outer tank. Super insulation is then applied in the space between the inner tank and outer tank to minimize the vaporization of liquefied gas.
We have been manufacturing portable cryogenic containers, before any other company in Japan, since 1961, with the total number manufactured reaching 100,000. Nationwide customers have used them as secure constant thermal insulation property containers. Since the start of manufacture we have improved the containers with an emphasis on the maintenance of security, including the installation of destructive safety valves that were not attached to imported products at the time, prevention of complete closure of the inner tank safety valves, and prevention of the complete closure of the various regulating valves. In addition, we have held campaigns to visit customers, and then reflected customer requirements in improving the containers.
New applications include containers for the liquefied carbon dioxide that are used to supply dry ice at supermarkets, and containers for liquefied natural gas used in kitchens at shopping centers in areas where town gas is unavailable.