Process air heater (air heater)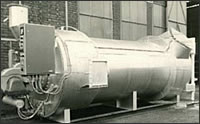 [Indirect air heating systems, which are relatively few in Japan]
A process heater is a system that burns heavy oil, kerosene, or fuel gas to indirectly heat high-temperature clean air. We introduced technology of this heater based on the considerable experience and results of KLEINEWEFERS (in Germany), and then made improvements in developing this heater. It has proved to be very popular with many users.
Features
Superior design based on a thermal engineering theory
Compact system design
Energy saving
Superior endurance
Heavy oil, kerosene, or gas can be used as the fuel.