Catalytic deodorizing equipment for ammonia and VOC gas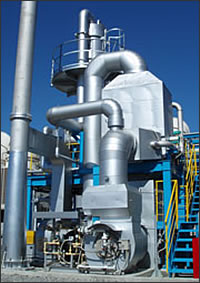 Our catalytic deodorizing equipment uses a precious metal catalyst to completely decompose foul odors, fermentation odors, ammonia odors, VOC (volatile organic solvent), which have previously been considered difficult to deodorize.
We have a catalyst dedicated to foul odors, fermentation odors, and ammonia odors and a catalyst dedicated to VOC (volatile organic solvent). Either or both of them can be selected depending on the details of the deodorization treatment needed.
Catalytic function
Harmful carbon monoxide and carbohydrates contained in exhaust gas discharged from factories are burnt to oxidatively decompose them into harmless carbon dioxide and water vapor. However, the high temperature of 700 to 800°C is necessary when no catalyst is used. When a catalyst is used though, complete oxidative decomposition can be performed at the low temperature of 150 to 350°C.
Low-temperature combustion results in reducing NOx emissions. In addition, the combustion heat generated at the same time can be recovered and made effective use of.
Features
Catalysts can easily be combined to suit the purpose.
Uses honeycomb or spherical catalysts.
Exhibits superior oxidation activity.
Complete oxidative decomposition is performed at low temperature (150 to 350°C).
Generates very little NOx.
Reaction temperature of various organic compounds and concentration after treatment
Organic compound
Inlet gas
temperature (°C)
Concentration
before treatment(ppm)
Concentration
after treatment(ppm)
Benzene
210
380
<1(odorless)
Toluene
210
320
<1(odorless)
MEK
220
380
<1(odorless)
MIBK
250
270
<1(odorless)
Methanol
150
830
<1(odorless)
Acrolein
180
500
<1(odorless)
Acetic acid
350
590
<1(odorless)
Butyric acid
250
370
<1(odorless)
Ethyl acetate
350
350
<1(odorless)
Methyl mercaptan
350
130
Undetected
Ethyl mercaptan
350
50
Undetected
Hydrogen sulfide
350
100
Undetected
Ammonia
220
500
<1(odorless)
Timerthylamine
220
40
<1(odorless)
Carbon monoxide
150
4,000
<1(odorless)
Pt-alumina catalyst was used at a space velocity of 20,000/h (equivalent at 0°C).